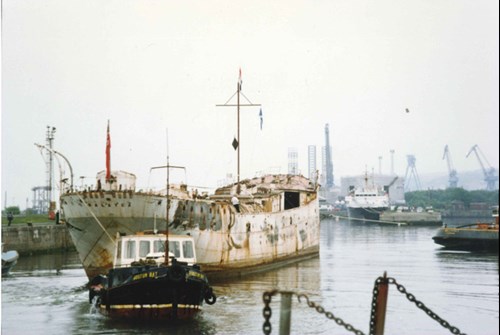 Since Glenlee's return in June 1993:
The Hull has been repainted (three times) and the bowsprit, masts and spars are back in place.
The weather decks have been relaid in Opepe, a tropical sustainable hardwood.
Cement and unneeded ballast has been removed. New ballast has been installed out of view.
The forward and aft deckhouses and the poop cabins have been recreated, including all the deck furniture on the poop deck including the steering gear. 
A tween deck has been laid in Douglas fir and this makes possible the entertainment space and the cafe
Marvin Elliott, a local sculptor on the Isle of Arran, recreated the wooden figurehead, affectionately known as 'Mary Doll'. The original remains at the entrance to the Naval Museum in Ferrol, Spain. 
Under the fo'c'sle (forecastle), the original windlass has been rebuilt and linked back to the capstan on the deck above. 
The carpenter's store, the hospital and the heads (toilets) have been recreated, and a classroom was created.
The engine, generator and electrical panel spaces have been cleaned, painted and opened to the public. 
However, there is always more work always required to keep the ship at its best:
Every year all the rigging needs to be inspected and treated
Every 10 years Glenlee needs to be dry-docked and the coating on her hull replaced.
The spars aloft are needing to be taken down, inspected and repainted.
After 25 years the deck needs to be completely refastened and recaulked.
The electrical systems need to be updated.
There is a long term requirement to undertake some fundamental work to the underwater plating.
This is the simple list and there is much more underlying it.  For example, we need to remove the original water tanks and inspect the hull before the next drydocking takes place.
And all the while we would like to keep Glenlee free to enter like the other Glasgow Museums, and that is why we need your help and support to make this possible.  If you can please make a donation to keep this very special vessel available to her public, and if you can we would welcome physical support if you wished to volunteer on board.  We have roles for Visitor Support, Crew Support, Working in the Café, working with the Museum Team on our displays and interpretations.  Please see our volunteering page for more information.