Posted: 14/10/2021 18:56:32
The 3rd December 2021 will mark 125 years since Glenlee was first launched on the River Clyde at Port Glasgow in 1896. This anniversary is a significant milestone for Glenlee, a steel-hulled sailing ship, which has grown to become an icon of the Glasgow skyline and one of the most popular museums in the city.
As we prepare to celebrate 125 years, we aim to look back over the ship's incredible past and share some key moments in that time. Glenlee's story is one of change and adapting to survive. By understanding the ship's remarkable heritage, we can learn from it and continue to ensure the ship continues to flourish going forward.
The Tall Ship Glenlee is one of only five Clydebuilt steel sailing ships still afloat in the world and the only one in the UK. The vessel is symbolic of Scotland's extensive maritime heritage, in one of the most significant periods of Glaswegian history when the River Clyde's shipbuilding industry was at the centre of Britain's global commerce.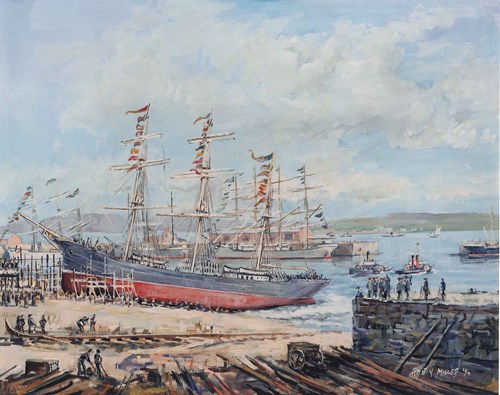 Launch of the Glenlee, 1896. Painting by Robin Millar
Glenlee was built at the Anderson Rodger Yard in Port Glasgow, the 26th of 120 vessels built by the company between 1891 and 1909. It was created as a cargo vessel and would go on to transport goods all over the globe. The type of cargo would vary from coal, rice, case oil, wheat, sugar, timber, and guano - a South American bird poo that was rich in nitrates needed for farmers and explosives in Europe.
The ship was awarded a certificate of registry on 11th December 1896 and departed for Liverpool two days later. Glenlee sailed from Liverpool on its first commercial voyage on 21st January 1897, under the command of Captain Charles Morrison and with a crew of twenty-six, bound for Portland, Oregon. This was the beginning of the ship's eventful life at sea, during which it would circumnavigate the world four times, and survive the notorious storms of Cape Horn fifteen times!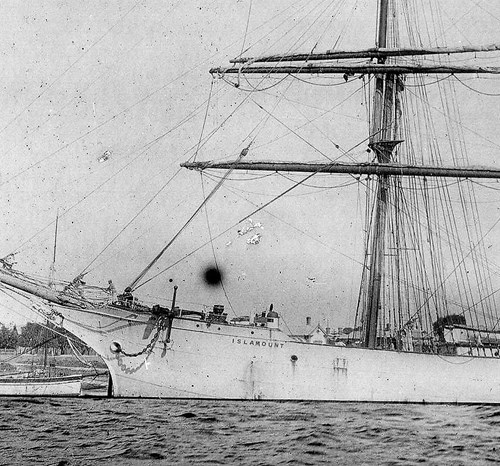 Islamount in Port
In March 1898 the ship was sold to a Dundee-based firm Robert Ferguson & Co. Ltd and was renamed Islamount in September 1899. Captain William Fraser commanded five voyages from 1898 to 1904, with Captain George Bevan commanding one voyage in 1904.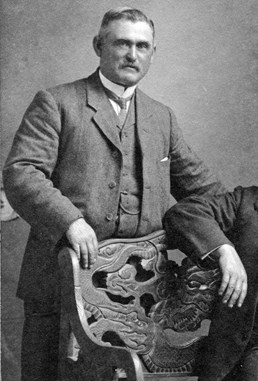 Captain Richard Owens, image courtesy of Gwynedd Archives
In 1905 the ship was then sold to Robert Thomas, and the fourth Captain, Richard Owens, took command. Owens would become the ship's longest-serving captain, commanding the ship from October 1905 to April 1916. Captain Owens also commanded one of the ship's most impressive voyages, which visited London, Gravesend, Delagoa Bay, Newcastle Australia, Callao, Don Martin Island, and Antwerp.
As a sailing vessel, the crew consisted of various roles, such as the bosun, sailmaker, apprentice, cook, carpenter, and captain. The sailors often came from a diverse range of backgrounds. For example, in 1912 the crew originated from Scotland, Germany, England, Russia, Austria, Norway, Sweden, Finland, Japan, and Denmark, demonstrating how the sea brought many nations together.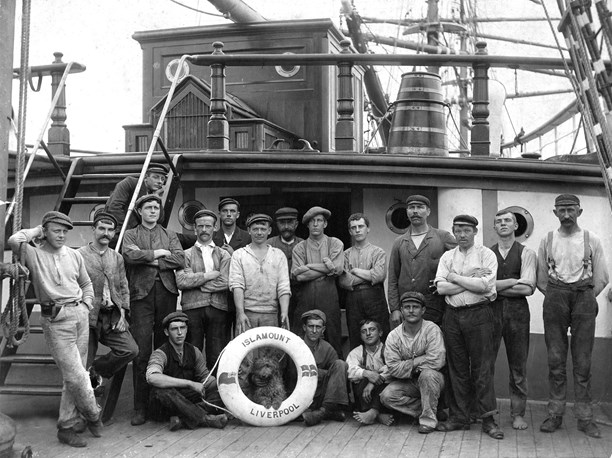 The crew of the Islamount in 1912, image courtesy of Llyn Maritime Museum
Living and working on a ship like Glenlee would have been an extraordinary adventure, but not without the challenges and perils of life at sea amid storms and calms. The work was strenuous, and most of the crew followed a watch system of four hours on four hours off, with a two-hour dog watch in the evening. Food was often limited, and there was little protection from the elements, with the crew experiencing extreme cold and extreme heat in different parts of the world.
Glenlee was part of this glorious age of tall ships when technology reached a peak in steel-hulled construction to carry vast cargoes under their powerful sails. The term 'Windjammer' was a derogatory term given to them by the steamship crews who looked on as their own newfound power enabled them to overcome the constraints of the wind making the overall useful life of these majestic ships to have lasted only 50 years and change was not far away for the ship. 
The Tall Ship Glenlee is owned by the Clyde Maritime Trust, a charity that works to restore, care and preserve the ship for future generations to learn and enjoy this rich maritime past. 
If you would like to help us keep afloat for another 125 years, please follow this link to our donations page.
Article by Amy McInulty, with contributions from Marc Turner.