Posted: 29/07/2021 09:51:24
With funding from Museums Galleries Scotland, The Tall Ship Glenlee is delighted to deliver:
The Summer of Play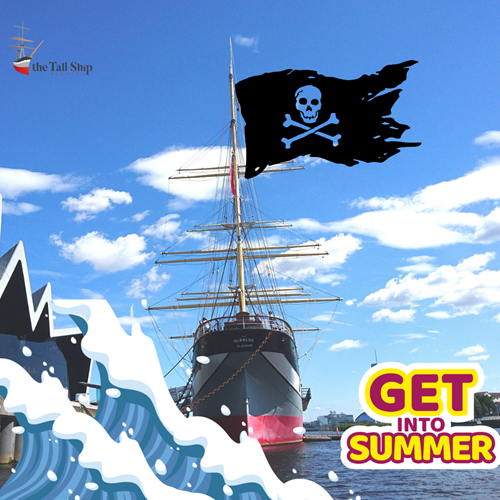 The Scottish Government has designated the summer of 2021 as the summer of play, and we have taken this wholeheartedly, with a range of choices available for the whole family this summer. In addition to drop-in crafts, pirate treasure hunts and an expanded programme of toddler sessions, we have collaborated with St Charles' Primary School to create a playful trail around the ship. From mid-July our bright yellow cards will transform Glenlee into the best playground imaginable!
Artist-led Workshops
This summer Glenlee will play host to five performers who will lead exciting, innovative and thought provoking workshops for our visitors. Each performer will run workshops or performances on Monday and Friday afternoons from 12pm - 3pm, with three performances per day. There will be a small number of tickets available to book ahead for the Monday workshops/performances, but otherwise it will be first-come first serve. Children have to be accompanied by an adult at all times.
Click here to book your spots. The sessions are free, but booking is recommended
Toddler Tuesday and Thursdays
After testing the waters in June, we are delighted to announce a full summer programme of our popular sessions for our youngest visitors! Grab your buckets and spades, a splash of imagination and come along to the Tall Ship Glenlee! Starting at 10am and lasting 45 minutes, our classes are fun, creative and interactive for the under 5s. We are restricting the number of adults able to attend to 10, but each adult can bring along more than one child. Cost per child is £3 and booking is essential.
Click here to book your spots.
Pirate Treasure Hunts
The mythical treasure of Glenlee has been stolen! We are recruiting brave swashbucklers to explore the ship, solve the clues, and recover the lost treasure! Perfect for children aged 5 and up. All children will need to be accompanied by one adult at all times. Hunts start at 11am and last for 45 minutes. All children receive a bag of chocolate coins as their prize. If your child has any allergies, please let us know in the registration form. Booking is essential.
Click here to book your spots
Summer Drop-in Crafts and Deck Games
We are delighted to be announcing the return of our ever-popular maritime themed, drop-in crafts. Running every afternoon from 12.30 - 2.30, except for Monday and Friday, our crafts will nurture your swashbuckler's creativity and imagination. In addition, we will have a variety of traditional deck games available.
Tuesdays: Make your own Parrot
Wednesdays: Construct a Pirate Ship
Thursday: Create a Flag
Saturday: Design your own Pirate Hat
Sunday: Create a Flag
This event has been funded by Museums Galleries Scotland as part of the Scottish Government's Get into Summer programme, supporting opportunities for children and young people to socialise, play and reconnect this summer.