Welcome aboard the historic Glenlee! With a wide range of workshops, tour options and other add-ons, your visit can be as individual as your students!
The Glenlee's Learning Programme is unique, engaging and highly popular, with over 7,000 learners visiting per year.
Due to our large scale maintenance projects scheduled over the next two years, the ship will be closed from January - March 2024.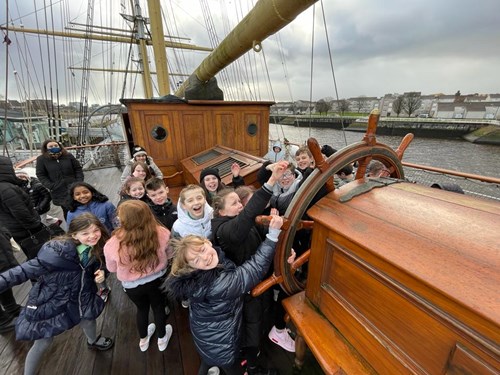 All groups of young people aged 18 and younger must be pre-booked. This includes schools, after-school and holiday groups. This enables us to ensure you are able to board the ship and that your group receive an introduction which includes a safety overview. 
We are unable to facilitate access to schools or groups of young people, under the age of 18, who have not booked ahead. Please note that we do not accept  booking requests on the day of the intended visit. 
Our exciting workshops cover a variety of topics from pirates, mermaids, Titanic, to Glasgow in World War One, all levels can experience a truly unique and memorable learning experience.
The workshops provided on the Tall Ship are in line with the Curriculum for Excellence and provide stimulating sessions in a unique environment.
The workshops available can be viewed in the Learning Brochure which can be downloaded. For more information on each workshop, visit our resource page.
To book or inquire about a learning visit or workshop, please use the online form here.  The information you provide allows us to give you a tailored response to your inquiry. If your visit does not involve a learning workshop, please visit the Group Visits page.
Please note that all workshop or associated costs will need to be paid in full before the date of your visit.
If you have any questions, please email learning@thetallship.com or phone 0141 330 9077
To sign-up for our Learning Newsletter, please follow this link.